Giya kancheli - dennis russell davies - vom winde beweint - konzert für viola und orchester
This page contain Norman Lebrecht's CDs of the Week from February 19, 2007 to March 4, 2014. For the latest Lebrecht Weekly, visit here.
Mieczyslaw Weinberg/Kremerata Baltica
(ECM)
****
Deutsche Grammophon, UMG's prestigious Yellow Label will be responsible for international digital distribution of the extensive ECM catalogue, the launch will be accompanied by a wide-ranging campaign in conjunction with the highly-engaged participating streaming partners.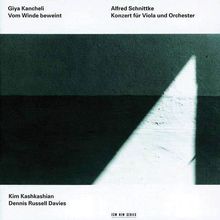 zivts.emultimedia.info